We grew up only 20-minutes away by car.  Los Angeles was and still is big enough that we would have never met except for a pandemic super-flu and a civil war.  The fact that we met and married goes to show that God can make good out of evil.
I was set to graduate in 2002 and be a Peace Corps volunteer in Xian, China.  Two weeks before I would leave to DC for Staging, I received a disappointing call: the Peace Corps program in China was canceled indefinitely due to SARS.  All current volunteers were being evacuated immediately.  My goal to get into a Tier 1 MBA school and then work in a prestigious investment bank was based on getting this work experience in China.  China was where the money will be in the future and the only way I could afford two years' worth of experience in China was through the Peace Corps.  I didn't think about the poor people getting sick in China from SARS, or the fear people felt from this super-flu.  I only cared about my own dreams.  Even to this day, I associate SARS to how my roadmap to become a high-flying investment banker was burned.
I tried to find new meaning in my life for two years, working in the private sector, before I decided to sign up for the Peace Corps, again.  This time, it'd be a two-for-one: I'll get both an MBA and Peace Corps' experience at the same time via the Master's International Program:
While I was getting ready for my Peace Corps assignment, my future wife was getting ready to evacuate from hers.  Anne Marie and her fellow volunteers were in Nepal for less than a year before the Nepalese Civil War intensified.  The Maoists bombed a U.S. facility in Nepal on September 10th; exactly six years later, our first daughter, Maya, was born.  Three days before my 25th birthday, Anne Marie left Nepal.  She didn't quit the Peace Corps.  Instead, she signed up again and was given two years in Guatemala.  The threads God were weaving in His Tapestry brought the patterns of our lives closer together.
It was her voice that first attracted me, like an ornithologist attracted to a bird's beautiful call.  Anne Marie was already a sworn-in volunteer for three months and was serving on a panel of speakers for the trainees.  I was one of the trainees listening to her describe her experience as a new volunteer.  Her voice was just so sweet.  I never heard anything like it.  When the session broke, I made a beeline for her.  I asked enough questions to be polite, then I asked for her number.  She was polite enough to give it to me, but she never returned my calls.
One year later, 2006, it was my turn to do a presentation for a group of trainees.  Suddenly, I stopped, excused myself to the audience, and went outside.  I saw Anne Marie walking around and I wanted to make sure she was not leaving the Training Center any time soon.  I hadn't seen her for a year.  I feared that I may never see her again.  She assured me that she'd be around.  After I finished my presentation, I found Anne Marie and we talked for a time.  Her number was still the same.  It never changed.  She made up some excuse for why she never returned my calls.  It didn't matter because she and a friend of hers were going to visit Coban, the city where I was assigned.  I explained that I lived with a local family and that there was more than enough room for her to stay with us when she made her visit.
Genuine attraction that leads to fulfilling love can be corrupted by lust.  If God hadn't kept us apart in Guatemala, I suspect that Anne Marie and I would not be married, today.  The natural life of a candle could be hours, but lust would be like putting that candle to a blowtorch.  The flames would be incredibly hot and passionate.  It would burn brightly and appear to illuminate the soul.  That is a deception.  The candle and wax would evaporate completely.  Nothing would be left.  Only scorch marks on the table for memories, but no warmth for the lonely soul.  God in His infinite wisdom knew that I had yet to understand this lesson.  So, it was not time for us to be, yet.
I asked her out on a date for the third time.  We were going to go salsa dancing in Antigua.  The weekend before our date, I received a disappointing call: Anne Marie's uncle passed away and she was flying back to the United States.  I wasn't thinking about how devastating this news was for her.  I was only thinking about myself.  The Holy Spirit still had a lot of work left to do on me before I was worthy of Anne Marie.  My relationship with Him was still developing.  So, I still tried to discern His Will for me.  At the time, I took the death as a sign from God telling me that she was not "The One."
So, I moved on.
When I met up with Anne Marie again in late-2007, I had no intention of courting her.  We were just friends.
"So, how's the dating scene?" I asked my future wife.  We were in Santa Barbara, I offered to pick her up and drive her back to Los Angeles on my way home for Spring Break.  We were killing some time by walking to the Santa Barbara pier.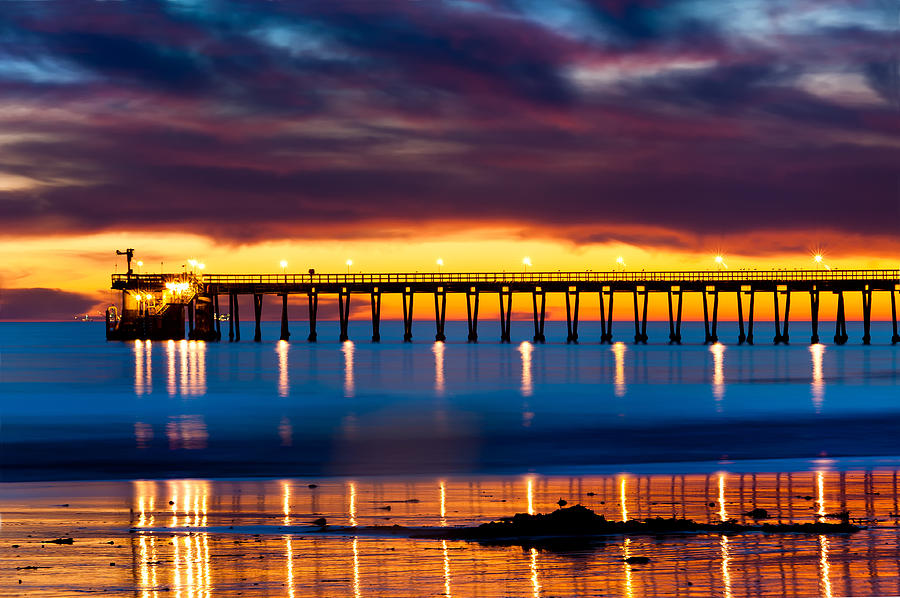 "What dating scene?  I haven't been out on a date since I got back."
I stopped walking and looked at her in shock.  "Oh really?  I can take you out on a date."
"You mean a 'pity date'?"  She said incredulously.
"No, no!  I mean a real date.  I'll show you how a real gentleman treats a girl."  Implying that all the guys she ever dated were jerks.  Fortunately, she was kind enough not to call out my snobbery.  But, truly, most men are jerks.  I would not trust my daughters with the majority of them.
I insisted on treating her to a dinner and a movie.  While waiting for our seats at a Thai restaurant, we walked down to the pier to watch the sunset.  Back at the restaurant, I found out one of her favorite desserts was Mango Sticky Rice.  We then went to go see "Darjeeling Limited."  The night was young and so were we.  She agreed to walk along the beach and continue talking.
"The moon is almost full.  It's too bad the coast is so foggy," I said.  "I remember one time, walking along the beach under a full moon, the moonlight looked as if it was reflecting on diamonds.  Thousands upon thousands of diamonds, as far as the eye could see!"
From the streetlamps, we could see a small, lonely pier jutting out into the water, through the fog.  "Hey!  Maybe the pier would go far enough out into the ocean where there isn't any fog?"
The weak yellow lamps were barely pushing back the dark night.  The thick fog and the eerie silence along the pier made our romantic walk turn into a scene from a horror movie.  "No, I don't like horror movies," she said in answer to my question.  Anne Marie then grabbed my arm, "Are those real?"
"They're just seagulls," I explained.  Standing on the rails of the pier were hundreds of seagulls, side by side.  As we walked past, they would slowly turn their heads, watching us like sentinels.  We felt like we were invading their territory.  Anne Marie wanted to turn back.  Not wanting to miss a chance to give her diamonds, I urged for us to press on.
Using a technique I would later employ when Anne Marie went into labor with Maya, I started telling her about a book I once read about seagulls to keep her mind off of the freaky fog-and-bird-at-night combination.  It was this beautiful story about a seagull who became an outcast and searched for the meaning of life, Jonathan Livingston Seagull by Richard Bach.  The deflection worked.  We made it to the end of the pier and there was no fog.  Just clear skies, wide open water, and moonlight reflecting on diamonds.  I finished telling the story of Jonathan Livingston Seagull and then we went back.  There was no kiss.  (Although, there should have been.)  When we walked back, the seagulls were gone.
I spent the night sleeping on the floor of Anne Marie's room.  We watched the Obama/McCain presidential debates.  It was a lovely evening, magical even.  True to my word, I was a gentleman.  Everything was rated G.  It didn't occur to me that Anne Marie was anyone but a friend.  It was a good date.  We might even go on a second one.
Before we parted to our own families that Spring Break, we set our second date to be a Queen Latifah concert at UCSB.  When I drove Anne Marie back to school, I got some disappointing news: she asked if we could change our Queen Latifah date to "just a get-together… as friends."
I said okay.
"If things were to work out, I would live overseas, again," she explained.  "I wouldn't get to see my godchildren grow up."  She had a week to think over what a second date would mean.  It's nice that Anne Marie thought that far ahead, because it turns out her words were prophetic.  Her godchildren indeed are growing up without her.  We lived three years in Shanghai and we are now one year into a four-year assignment in South Korea.  I gave her two children of her own to make up for it, but Anne Marie doesn't see it that way.
"That's okay.  I understand."  I wasn't disappointed.  It was my fourth or fifth rejection.  I lost count and I was getting used to it.  I was on a mission to find a wife.  Not interested?  Fine.  I was ready to move on.  In my mind I was already thinking of the few men I knew in the teaching profession who would be a good match for her.
"I am surprised, though."  I said.  "I've met so many women who did not like the idea of living overseas.  I just don't get it.  I thought most women would love a chance for a man to sweep them off their feet and travel around the world.  I'm not ugly.  I'm a nice guy.  And being a diplomat's wife can't be that bad.  It's 180 degrees from being a Peace Corps volunteer."
Basically, I'm awesome.  Why wouldn't a woman want to marry me?  Satan was first among angels before pride caused his fall.  I may have been seeking God, but God wasn't done with me.  He still isn't.  Pride is still one of my greatest weaknesses.  He may have blessed me with a strong sense of self-worth, but my broken nature interprets the blessing the wrong way: I'm not awesome; the Holy Spirit working through me is.  At that point, I had yet to learn this lesson.  So, I was still genuinely perplexed by how no one but my mom thought I would be a great catch.  "Oh, well."  I concluded.  We traveled in silence for a while and then talked about other things.
I found out later that I made Anne Marie cry.  I had just dropped her off in Santa Barbara and she was back in her room, going over the conversation we had in the car.  She was staring at a picture frame of her godchildren.  She kept staring and staring… then she started to cry.  Anne Marie had to make a decision.  He was driving away, both literally and figuratively.  Something, or someone (the Holy Spirit, perhaps?), made her pick up the phone.  She left a message: "If you would like, you can change the get-together back to a date, again."  It was my first taste of a lifetime of Anne Marie's flip-flopping.
I read somewhere that women like men to be spontaneous.  The MIIS Activity Center offered tents and sleeping bags for students to borrow.  So, I packed them in my car in case Anne Marie agreed to my spontaneous suggestion to camp out at Carpinteria on the ride back to Los Angeles.
The Queen Latifah concert was at the Arlington Theatre on the UCSB campus.  November 15, 2007.  Five years and two weeks from our second date, our second daughter, Hana, was born.  The music was amazing and Anne Marie was impressed that she could do jazz; she's only ever heard her do hip-hop.  I looked up a four-star Italian restaurant from Zagat's (was it Ca'Dario?).  In case things went well, I wanted to be able to take her to a five-star on another date.  It was during this dinner where I asked "What are the five defining moments of your life?" as my first date question.  Anne Marie nearly spit her water back out.
"Why don't you start with 'what's your favorite color'?" she suggested.
Anne Marie liked my spontaneous suggestion to camp out at Carpinteria the next day before driving all the way back to SoCal.  Watching the sunset, we talked about many things.  My spiritual journey.  Our family history.  My "List 100".  Our dream goal.  I made Anne Marie cry a second time when I told her about my "flower in the field" story.
I could have asked "what's your favorite color," but I wasn't interested in dating.  I was interested in courtship.  Small details like one's favorite color can be discovered later; I wanted to know who she was, who she wants to be, where she wants to go.  Anne Marie never really told me what the five defining moments in her life were.  After four years of marriage, I think I can take a stab at it:
We've only been married for four years.  There's a lifetime to go, and — God willing — we'll have many more stories to tell.  I love telling our story.  It's a personal miracle for me.  How can I not praise God when less than five years ago, I was lamenting if I would ever even find a girlfriend, let alone a wife?  Here I am now, married with two children!  What did I ever do to merit this?  Who am I to be so blessed?
As romantic as our love story is, our marriage is merely an outward sign of an inward reality: our personal love story with God.  I look back at the story of my life: everything, good and bad, led me to this moment.  I cannot take away anything without destroying the logic of my life's story.  The moment I opened up my heart to God, the moment I stopped being an atheist and acknowledged His Hand in my life, God kept lavishing me with blessings… it's as if all the gifts I ever gave to all the women I ever loved came back to me a hundred-fold, as if to say:
It is okay to love with abandon, to never stop loving, because I never stopped loving you.  I've always loved you and I've always blessed you.  You're only just seeing it, now.  I have now given you a wife and children, whom you can love with abandon.  Learn the true meaning of love.  I did not choose you because you are beautiful, but you are made beautiful through my sacrificial love.  Love your wife, as I love you.  Love your children, as your Father loves you.
http://instagram.com/p/UGJOGZwKEB/