Praise God!  Glory to Him and bless the Communion of Saints!  And, (oddly enough), God bless United Airlines.
This past Saturday, I lost my Amazon Kindle Paperwhite on my flight from SFO to Las Vegas.  I did not think I would ever see it, again.  I filed a claim, but they didn't give me a claim number.  So, I assumed my claim would go into the ether and be forgotten.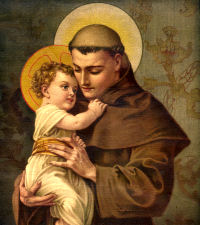 When I went to Mass on Sunday at the Guardian Angel Cathedral of Las Vegas, I prayed to St. Anthony of Padua, the patron saint of lost articles.  I asked that if it was God's will, that St. Anthony would help intercede for me and ask God to help me find my Kindle, again.
Later on that day, the Holy Spirit brought the Country Manager for United Airlines Korea across my path.  I mentioned to him about my lost article and he said that he would check it for me.
When I checked my email later that night, I received word from the Country Manager that my Kindle was indeed found!  It was waiting for me at the airport to be picked up on my Thursday return flight home (I went early Monday morning to get it, instead.)
People who don't believe in miracles would say that United did their job.  It's not a miracle.  Well, that's how God works.  He gives you just enough evidence to make you think it was a coincidence, but it takes faith to see reality.
No one had to turn it in.  They could have kept it.  United had tried to contact me on the Kindle email that I already deactivated.  If the United Country Manager had not inquired for me, I would have never known.  For that matter, I may have never run into the Country Manager on Sunday — the very morning right after Mass and my petition to St. Anthony.  Moreover, he's a busy man — and I stood him up on the reception on Saturday night because I was busy trying to contact United's Lost & Found.  He didn't have to inquire for me.
Also, I didn't learn that St. Anthony was the patron saint for lost articles until I read the missalette at Mass on Sunday morning.  Even God deserves the credit for me reaching out to St. Anthony!
A lot of little things had to go right in order for that moment to come true.  I reflect on all the things that could have gone wrong, all the things that could have prevented my Kindle from being found and word of it communicated to me, and I can only praise God and thank St. Anthony for his intercession.
I already had given up and accepted the loss.  I was more embarrassed with myself for my forgetfulness than anything.  As a matter of fact, the moment I found out it was located, I had to go and cancel my order for a new Kindle.